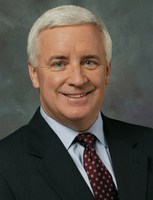 When the state's top law enforcement officer says corruption in the Pennsylvania Legislature will "shock the conscience of people" you have to pay attention.
It appears last year's arrest of 12 people connected to the House Democratic Caucus was just the tip of the iceberg in what is shaping up to be the biggest political scandal in Pennsylvania history.
Dubbed "Bonusgate" by the media, the charges against top Democratic officials stem from the awarding of millions of tax dollars to state employees who were doing political work while they were on the clock.
The biggest fish snared so far is former state Rep. Mike Veon, the former No. 2 Democratic leader in the House.
But Attorney General Tom Corbett, in an interview with the Pittsburgh Tribune-Review, says charges anticipated later this year will leave Pennsylvania residents "stunned" by the amount of money involved in the corruption probe.
Reporter Brad Bumstead also notes that the Legislature's costs for legal fees related to the investigation has reached $5.8 million so far. In other words, the political aristocracy in Harrisburg has spent nearly $6 million of your tax dollars to defend itself from charges that it illegally spent more than $4 million to hand out bonuses to political operatives.
Only in Pennsylvania.
I hear that the state is planning to build a new maximum security prison to replacing the aging Graterford Prison in Montgomery County. Perhaps it could set aside an entire wing to house current and former members of the Pennsylvania Legislature and their staffers.
Read Bumstead's full story, "Corruption total will be stunning, says Corbett,"
at the
newspaper's Web site
.